Century 21 iProperties Hawaii is the listing broker for The Central Ala Moana
The Central at Ala Moana is scheduled to begin construction in early 2019 and completion is estimated in 2021. Sales will begin in November, 2018. The Central Ala Moana will be a 43 story residential building with 512 residences for sale and one condo will be reserved for the resident manager (513 total).
Update - as of November 6, 2018 the developer has released floorplans and we will add them to our website. There are multiple floorplan sheets and we'll add the information incrementally.
Pricing
HHFDC Affordable Units - Hawaii Housing Finance Development Corporation (HHFDC) affordable units have income requirements, a 10-year buyback option for HHFDC and shared appreciation with HHFDC.
Market Priced Units - The market priced units are just that - there's no affordable pricing structure, however owners of market priced units are free to sell as they wish without restrictions.
| | | | | |
| --- | --- | --- | --- | --- |
| | Total Units | Affordable Pricing | Market Pricing | |
| Studio | 93 | $286,000 - $399,500 | - | |
| One Bedroom | 145 | $396,000 - $566,000 | $580,000 - $630,000 | |
| Two Bedroom | 223 | $493,000 - $637,700 | $777,000 - $998,000 | |
| Three Bedroom | 52 | $700,000 - $708,000 | $990,000 - $1,398,000 | |
The Central Ala Moana Floorplans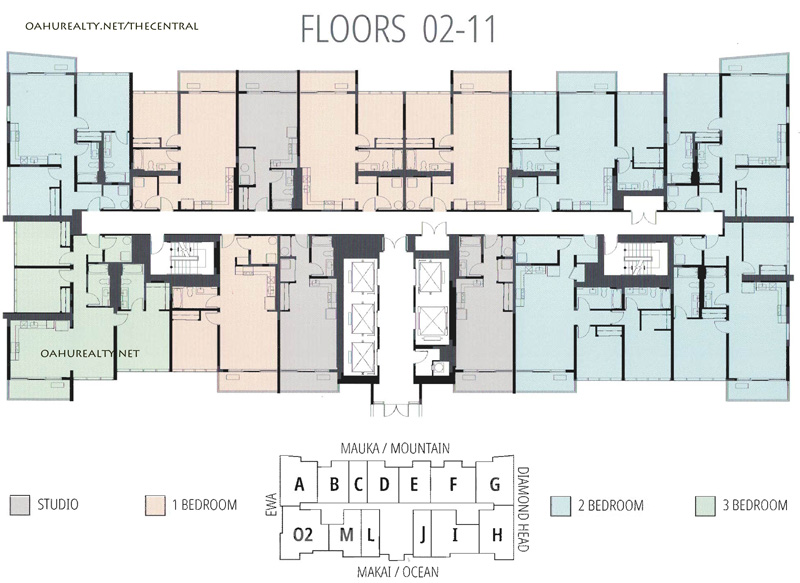 Parking at The Central Ala Moana
Parking will occupy 10 levels with a recreation deck on top. Commercial spaces will be at the street level.
Each studio, one and two bedroom condo will be assigned one parking stall. Three bedroom condos will have two parking stalls.
Additional parking stalls will be sold separately for owners of two bedroom condos desiring a second stall. The parking stalls will be sold approximately at cost to the developer, estimated around $35,000 each. Owners will be able to buy one parking stall in addition to the parking stall included with their condo. If available parking stalls are not sold out to owners of two bedroom condos, the remaining stalls will be offered to owners of one bedroom condos.
A pleasing feature about parking at The Central Ala Moana is the pedestrian walkways between the parking structure and the residences. Certain floors will have the walkways allowing residents to cross from the parking structure to the condo without the need to go to the ground floor of the parking structure, crossing to the residential elevators and going back up.
Ocean and Mountain Views
The makai (ocean side) floors are expected to have partial ocean views from the 11th floor and around the 15th floor and higher unobstructed ocean views towards Ala Moana Beach Park.
Amenities
Swimming Pool
Cabanas with Grilling Stations
Fitness Center
Dog Park
Electric Vehicle (EV) charging stations
Bicycle and Surfboard Storage
Pet Policy
Each residence will be allowed one pet with a 25 pound weight limit.
Shopping and retail in the neighborhood include: Ala Moana Center, Shirokiya Village Walk, Foodlands Farms, Sam's Club, Walmart, Don Quijote, Palama Market and Whole Foods.
Developer - Sam Koo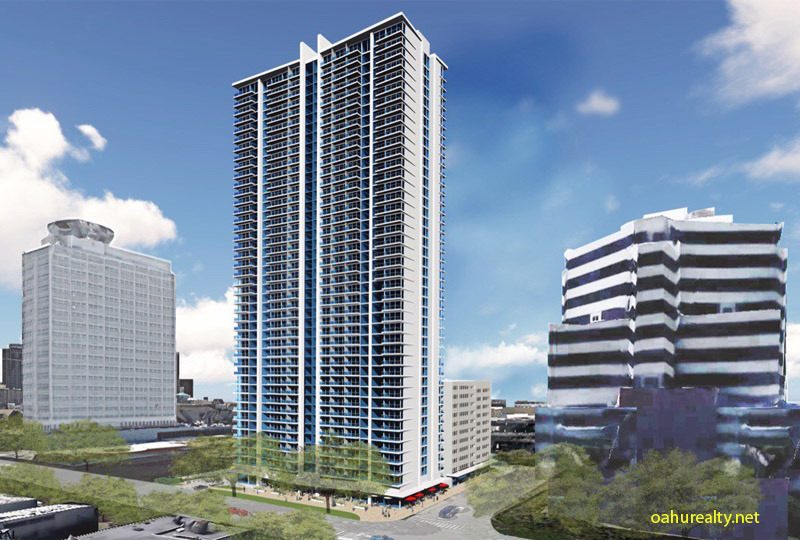 The Central Ala Moana site photos
This shot overlooks the building site in October 2018.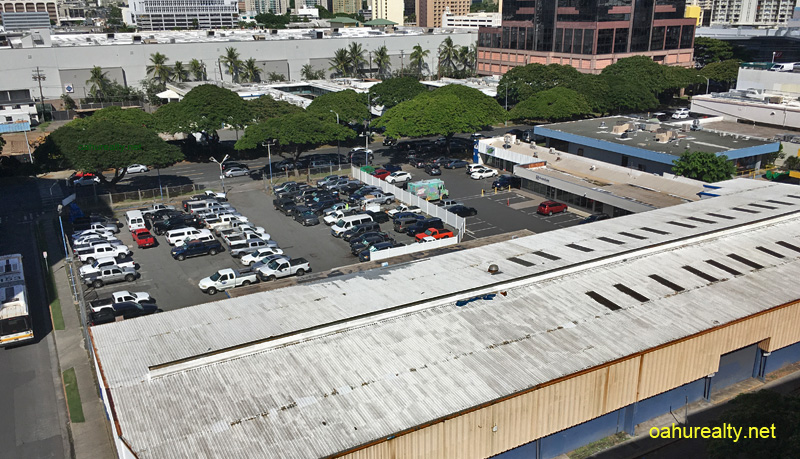 History of 1391 Kapiolani Blvd location
The site was developed as Motor Supply, a shop that sold tires and auto parts in 1937. After World War II Motor Supply began selling Nash and Hudson autos. In the 1950's the company became a Rambler dealership. In 1965 Motor Supply added the Pontiac brand and in 1970 the Jeep brand was added. In the late 1970's the dealership was named Courtesy Pontiac. The original garage is on the makai side of the lot and the sales office was where Taste Tea is now located.
Other Newer buildings in Kakaako and Ala Moana (see below)