This 500 foot volcanic cone in the heart of Honolulu is one of the more recognizeable landmarks in town. Punchbowl overlooks downtown Honolulu and offers views in every direction, depending on what part of the crater you're at.
Most of the homes at Punchbowl are older, built in the early to mid 1900's. Here and there, original homes are gradually replaced and newer homes dot the neighborhood.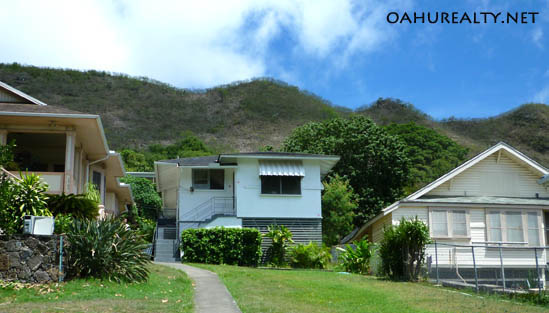 Public schools serving Punchbowl include:
Info about Punchbowl Crater
The center of Punchbowl Crater holds the National Memorial Cemetary of the Pacific. Originally a public burial place, it was converted to a military cemetary after World War II.
Punchbowl's Hawaiian name is Puowaina, which translates to "Hill of Sacrifice." Centuries ago, Hawaiians performed ritual sacrifices of those who violated taboos.
In the late 1800's land along the slopes of Punchbowl was sold for residential use and homes started to appear on the hillsides.