Palolo Home Sales Comparative Market Analysis - October 2018
Five properties sold in Palolo Valley during October, 2018. The lowest selling price was $195,000 for a studio at Palolo Garden (condo). The lowest selling price for a single family home was $700,000 for a three bedroom, two bath house on Palolo Avenue. That house was in "fair" condition and on a 3,909 square foot lot.
The highest selling price was $1,075,000 for a five bedroom, four bath home on La'i Road. The house is move-in ready, three stories tall and in a quiet location.
The average interior area for the four homes sold was 1,458 square feet. Selling prices on average were 97.3% of the list prices - meaning they sold for nearly full price, on average.
Some list prices were reduced and the average represents the sale price divided by the list price at the time the offer was accepted.
What's special about Palolo Valley?
Ka'au Crater Trail makes for a great hike that will take you to a waterfall. Further up the trail there are views of Oahu and the neighbor islands.
Kawamoto Orchid Nursery on Waiomao Road is a "must see" for orchid lovers.
Palolo Chinese Home is an elder care home for seniors that are at least 85 years of age. The home is a non-profit and welcomes seniors of all races (not only Chinese)! Palolo Chinese Home is located on 10th Avenue, near the back of Palolo Valley.
Most properties for sale in Palolo Valley are single family homes. There are some townhomes and condos available too. Palolo Valley has grown in popularity due to its relative affordability.
Palolo Valley driving directions
On H-1 freeway eastbound, take the 6th Avenue offramp (exit 25B) and turn left at 6th avenue. Drive mauka (towards the mountain) past Harding and Wai'alae Avenues. Continue on 6th Avenue and it will merge onto Palolo Avenue, taking you into Palolo Valley.
From the H-1 freeway westbound, take the Wai'alae Avenue offramp (exit 26)and proceed on Wai'alae Avenue. Turn right anywhere from 10th to 6th Avenues and drive mauka into Palolo Valley.
Public schools serving Palolo:
History of Palolo
Palolo Valley has a diverse background, including farming, a quarry and a golf course. During World War II the army built an airfield with military housing near the golf course. It's long gone with housing standing in its place. Palolo's population is about 14,000 with approximately 4,500 homes.
Palolo Airfield
The Palolo Airfield was built during World War II. After the war, public housing replaced the airfield. Here's a photo of one of the buildings, recently renovated (2016-2017). Presumably the airfield was nearby or right in this area, in one of the flattest, most level sections of Palolo Valley.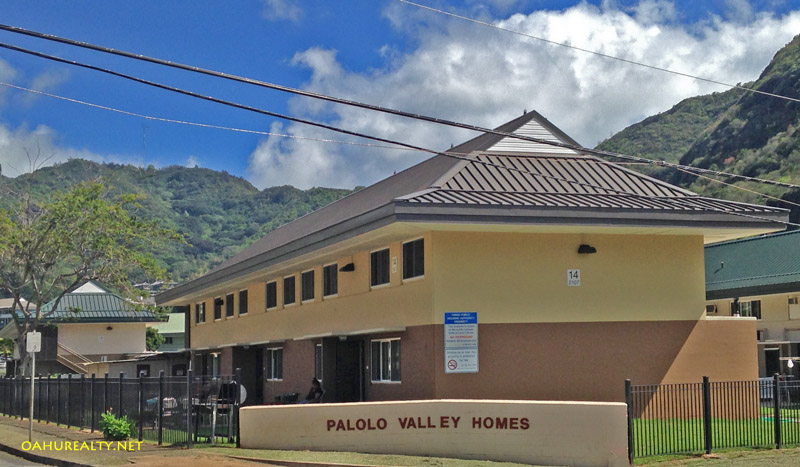 And here's a picture of the buildings across the street (Ahe Street) still to be renovated. These older structures retain the original design from when they were built in the 1950's. Access to Ahe Street is via Kiwila Street, which cuts across the valley from Palolo Avenue to 10th Avenue. Another set of public housing structures are further makai off Palolo Avenue on New Jersey Avenue. How did New Jersey Avenue get its name? I hope to find out someday.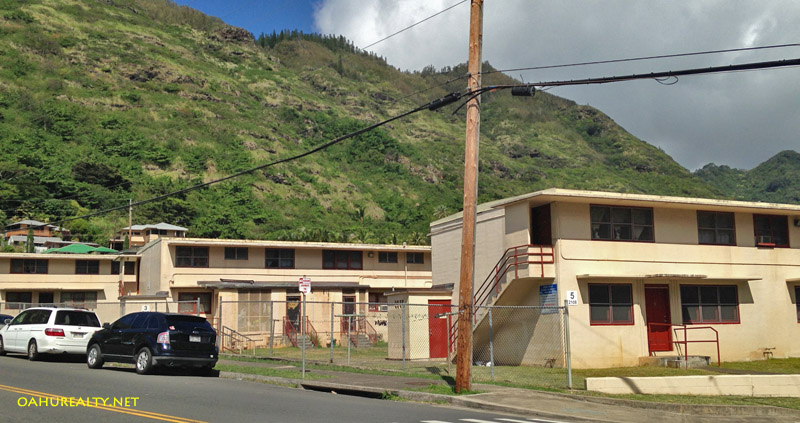 Palolo Golf Course
Prior to World War II, this same area was a nine-hole golf course. The lower boundary was Kalua Street, where Jarrett Middle School is today. Side boundaries were Palolo Avenue and 10th Avenue. The upper boundary was in the area where Anuenue School (a Hawaiian Immersion School) is today. The photo below is from the Honolulu Star-Bulletin newspaper, published in 1929 announcing the opening of the golf course.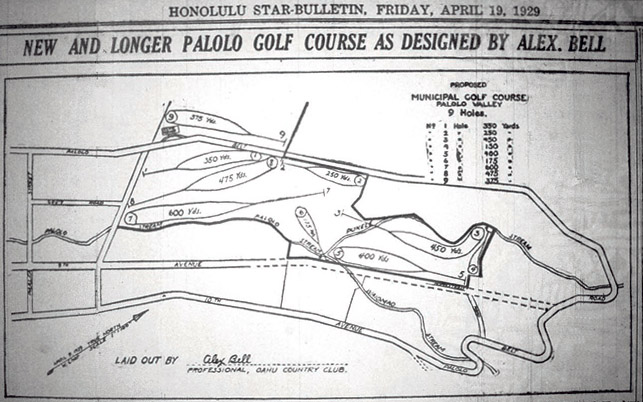 Neighborhoods nearby: