Marco Polo view from the McCully Street Bridge during the fire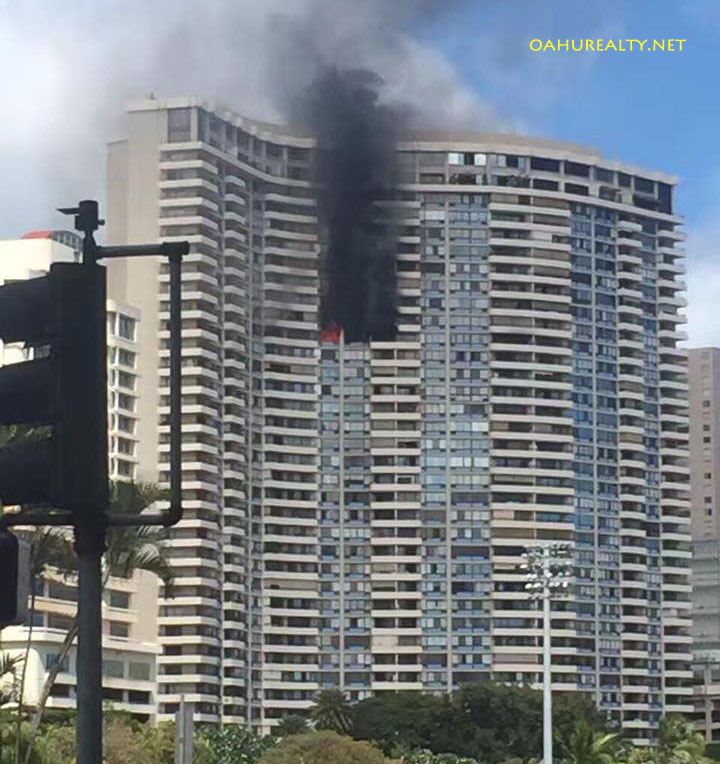 Honolulu's worst high-rise fire in the city's history occurred at the Marco Polo building on July 14, 2017. The fire started in unit #2602 just after 2 p.m. Occupants of that unit managed to escape. Three occupants in neighboring units stayed in their apartments and died. A fourth person on the 32nd floor was disabled and waited out the fire in her apartment. She died several weeks later due to complications.
Residents have mentioned the building's design cause its hallways to be wind tunnels, which is great for natural cooling from the tradewinds however the winds might also contribute to spreading the flames. Another complaint is about the fire alarm system - some say the alarms are not loud enough and they can't be heard from some apartments when the doors are closed.
Damage to the building is estimated at $107 million with 30 units destroyed and another 50 significantly damaged. Besides damage from the fire and smoke, water from the firefighting leaked down from higher floors into units below causing water damage. According to the Honolulu Fire Department there were 111 high-rise fires during the period 2006-2015 with a total loss of $4.9 million. The Marco Polo fire dwarfs all previous high-rise fires. I spoke to an employee of Marco Polo, he said it will take years to repair the damage.
This fire will be remembered in Hawaii for decades. Marco Polo was built in 1971, four years prior to the City and County of Honolulu's enacting a law requiring all high rise buildings to have fire sprinkler systems. In 1983 the City and County passed a law requiring high-rise hotels to retrofit sprinklers and in 2001 all other commercial high rises were added to the list. Residential condos have thus far been exempted because of owners' concerns about cost.
Marco Polo after the fire, viewed from Kapiolani Boulevard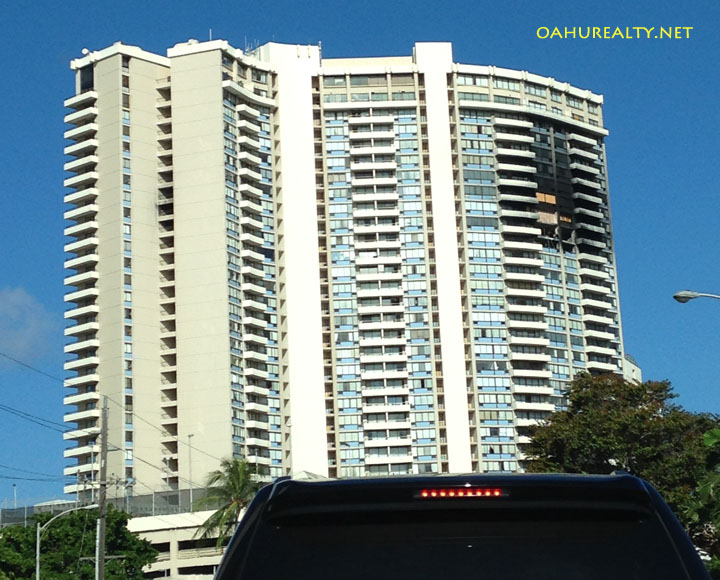 Mayor Caldwell calls for sprinkler retrofits
Days after the Marco Polo fire, Mayor Caldwell pushed for new legislation requiring sprinkler systems in all high rise condos. That may be a tough sell, because residential condo owners balk at the cost to install the systems in each unit. On average the cost is around $10,000-$15,000 per unit and many owners say they can't afford it. Incentives such as low interest loans and tax breaks are being discussed by legislators. One legislator suggested tax credits to the Associations. However homeowners associations are generally tax exempt and tax credits may not benefit them, unless the credits are allocated to the individual unit owners. I hope they figure that out prior to passing legislation.
Three hundred and fifty-eight (358) residential high-rise buildings were constructed on Oahu prior to the 1975 sprinkler law. Buildings at least 75 feet in height are considered high-rises. Some buildings have been retrofitted with sprinkler systems; most have not.
For some reason, there are a number of high rise condos built after 1975 (the year when all residential condos should have included sprinkler systems) that don't have sprinklers. I haven't found the explanation for that yet.
Significance of the number of fire alarms
The Marco Polo incident on July 14th was a 7-alarm fire. I spoke with a fire captain to learn more about the meaning of the number of alarms. A one alarm fire calls for three engines, a ladder and a battalion chief. Adding to the number of alarms increases the number of engines, ladders and personnel. The Marco Polo fire was initially called a 5-alarm fire and then HFD later said it was a 7-alarm fire. There were in excess of 30 fire engines (including ladders, rescue and fire trucks) and 120+ fire personnel. It was a big one!
Marco Polo building information
Marco Polo is a 36-story building with 568 residential units. Initially a leasehold building, the fee simple interest was offered to lessees and most of the units have been converted to fee simple. Some units are still leaseholds and the fee is available. The building was constructed in 1971 and is notable for it's wavy design. Its address is 2333 Kapiolani Boulevard. The Ala Wai Canal separates Marco Polo from Waikiki. The official name of the building is the Marco Polo Apartments and it's located in the Kapiolani neighborhood (same as the street name). The owner occupancy rate exceeds 50%.
Aloha, Mike
Mike Bates (Realtor Associate)
RS-54129
CENTURY 21 iProperties Hawaii
1585 Kapiolani Blvd #1533
Honolulu, HI 96814