This neighborhood was the home of the first sugarcane and coffee plantations in Hawaii. Manoa has evolved to become a prestigious area with mature homes that are well cared for.
Manoa is bordered by the Ko'olau mountain range to the north and the H-1 Freeway to the south. Tantalus is immediately west of Manoa Valley and Saint Louis Heights are to the east. Manoa is a Hawaiian word that means "vast." This IS a large valley with thousands of homes and residents.
Manoa's climate is slightly cooler than Honolulu and light rains are a daily occurrence. Views are very nice because of the valley's lush vegetation.
Sorry! No results were found for your search. Your search may be too restrictive - try loosening up your parameters (i.e., don't require items like Waterfront or View). Some property types do not contain all fields (i.e., multi-family homes do not list number of bedrooms).
Manoa Home Sales Comparative Market Analysis - September and October 2018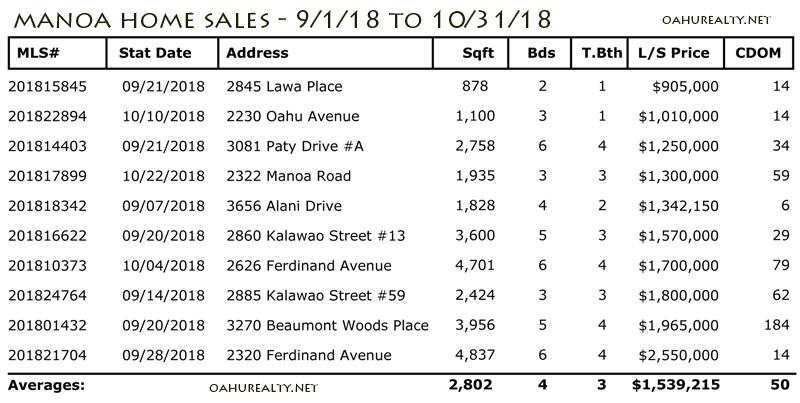 Eleven properties sold in Manoa during September and October, 2018. The lowest selling price was $905,000 for a two bedroom, one bath home on Lawa Place. The house was in fair condition and on a 5,676 square foot lot.
The highest selling price was $2,550,000 for a six bedroom, four bath home on Ferdinand Avenue. The house has 4,837 square feet of living area and is located on a 13,648 square foot lot.
The average interior area for the eleven homes sold was 2,802 square feet with four bedrooms and three baths. Selling prices on average were 97.8% of the list prices. The average price per square foot was $637.
Some list prices were reduced and the average represents the sale price divided by the list price at the time the offer was accepted.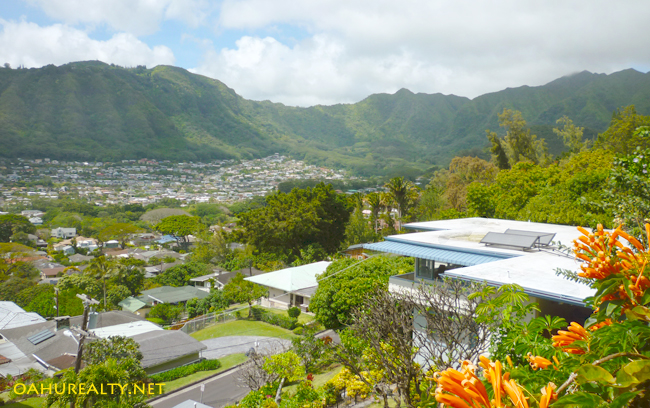 The University of Hawaii's main campus is located in lower Manoa.
Other places of interest in Manoa:
Manoa Marketplace is the main shopping center in the valley. Across the street are boutique stores and coffee shops, perfect for relaxing and reading the Sunday paper.
Manoa driving directions
Driving eastbound on the H-1 freeway, take the University Avenue offramp (24B) and proceed up University Avenue. Continue past the University of Hawaii campus into Manoa.
To reach the Manoa Marketplace, turn right at the intersection of University Avenue and East Manoa Road. Drive half a mile and the marketplace will be on your right.
If you're looking for Manoa Falls, go straight through the intersection of University Avenue and East Manoa Road and note that the road has transitioned to Oahu Avenue. Drive a bit further and bear right onto Manoa Road. Follow Manoa Road to the top.
Public schools serving Manoa include:
Manoa neighborhood information
Manoa's zip code is 96822.
Approximately 55% of Manoa residents report being of asian descent.
Manoa is an affluent area and home prices are above the Oahu median.
The Woodlawn area of Manoa is named after the Woodlawn Dairy that began operations in 1879.
More Manoa history
After World War II, an affordable rental housing project known as "Manoa Housing" was constructed in the area where Manoa Marketplace and Manoa Library are located now. The project was federally funded and its purpose was to provide low-cost homes for war veterans. Families first moved to Manoa Housing in late 1945.
The homes were in a safe neighborhood and the low rents allowed residents to save so that they could buy their own homes later. One thousand homes were built at the Manoa Housing site and they were occupied until 1958. In the 1960's the homes were torn down. Former residents of Manoa Housing periodically hold reunions to talk story about the good old days in Manoa.
Neighborhoods nearby: