These townhomes are located just below La Pietra girl's school campus at Diamond Head. La Pietra townhomes were built in 1970. There are 38 townhomes in floorplans ranging from two bedrooms, two baths up to four bedrooms with 3 1/2 baths. Interior sizes range from around 2,200 to 2,600 square feet.
Each townhome is a two story design with a private yard. Covered carports for two vehicles are included with each unit with guest parking on the grounds. In the center of the property there's a swimming pool. There's a security guard at the entrance.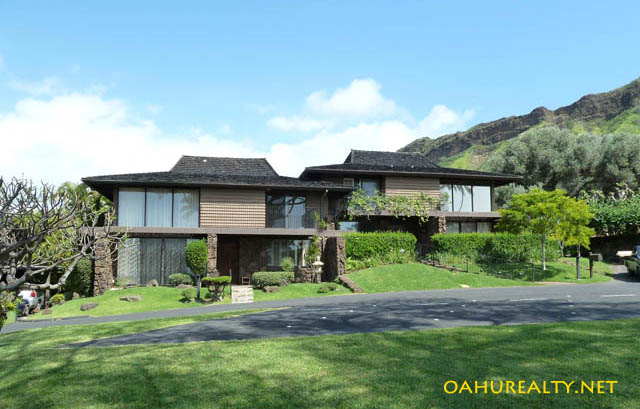 La Pietra is a perfect location for homeowners desiring solitude while living at Diamond Head and near the beach. Views are generally of Diamond Head and the gardens surrounding the property. Some units have partial ocean views. Maintenance fees as of 2013 are $1,500 monthly.
La Pietra location
La Pietra townhomes are located on La Pietra Circle, on the slopes of Diamond Head. Drive down Kalakaua Avenue towards Diamond Head. The road travels along Kapiolani Park, the Dillingham fountain and Diamond Head's beachfront condos and then turns mauka towards Diamond Head. At the four way stop sign, cross Paki Avenue, go straight up Poni Moi Road and reach La Pietra Circle. La Pietra townhomes are gated and guests must have permission to enter the grounds.
Nearby neighborhoods: