Tucked between Date Street, Kapiolani, Kaimuki and Diamond Head is this neighborhood called Kapahulu. It's one of Oahu's older districts that gives you a "Classic Honolulu" feeling with its mom and pop stores, low rise apartment buildings, mango trees and scenery provided by the Ala Wai Golf Course as well as Diamond Head.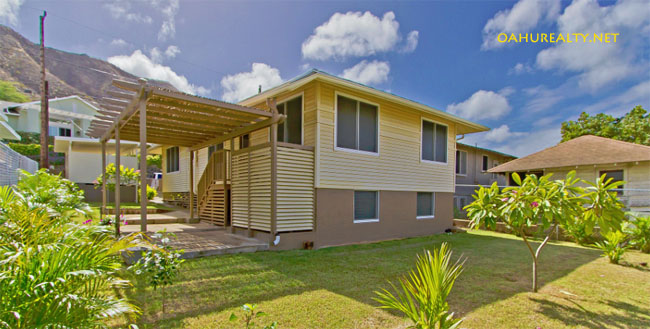 Kapahulu Home Sales Comparative Market Analysis - September and October 2018
Seven properties sold in Kapahulu during September and October, 2018. The lowest selling price was $825,000 for a three bedroom, one bath home on Kaina Street. The house was in average condition and on a 2,200 square foot lot.
The highest selling price was $1,375,000 for a six bedroom, four bath home on Kanaina Street. The house has 2,880 square feet of living area and its lot size is 4,999 square feet.
The average interior area for the four homes sold was 1,459 square feet. Selling prices on average were 101.2% of the list prices - that's $803 per square foot of living space.
Some list prices were reduced and the average represents the sale price divided by the list price at the time the offer was accepted.
Days on Market - the time from listing to acceptance of an offer - averaged 10 days.
Driving to Kapahulu
On the H-1 freeway eastbound, take exit 25A. Follow the road past Market City Shopping Center and turn right onto Kapahulu Avenue.
Westbound on H-1, take the Waialae Avenue offramp (exit 26) and follow Waialae Avenue several miles until it passes under the freeway. Take a left turn at Kaimuki Avenue to reach Kapahulu Avenue.
Homeowners like Kapahulu because of its location. Kapahulu is right up the street from Waikiki and Diamond Head. Kahala and Manoa are nearby too. The surrounding neighborhoods are generally more expensive than Kapahulu.
Public schools serving Kapahulu include:
Kapahulu neighborhood information
Kapahulu is close to the beach, a great plus for surfers. And there are many senior residents that have lived in their Kapahulu homes for decades. Some of the homes were built as far back as the 1930's on small lots - sometimes just a bit larger than 2,000 feet. A small home on a small lot might not suit everyone but for many Kapahulu residents it's the ideal mix, close to shopping, restaurants, Kapiolani Community College and the Waikiki Shell.
Neighborhood nearby: