Our marketing program includes listing on the Oahu MLS with multiple high-quality photos. We also use website advertising, newspaper advertising, direct mail and direct phone calls. We have the high-tech tools and strategies to get your house sold! Some agents take a listing, shoot a few pictures then sit and wait for an offer. We are proactive and will get your home noticed.
Talking House for drive-bys
Talking House is a great tool we use to sell houses. We setup a radio transmitter in your home. A sign outside the home or in a window provides information for listening to the message. Prospective buyers drive by, tune in and find out about the number of bedrooms and baths, condition and pricing. Then they schedule an appointment to see your home!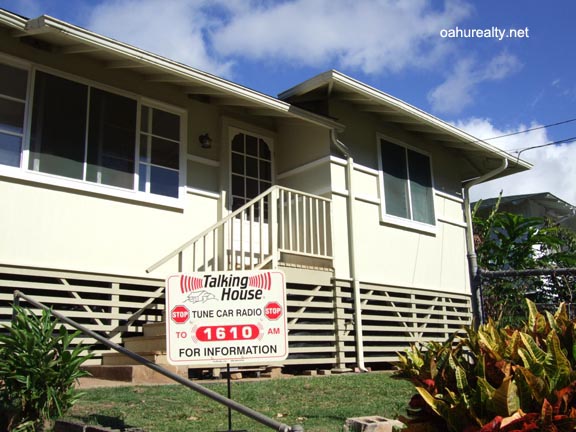 Sentrilock Electronic Lockboxes
We have Sentrilock lockboxes available for most listings. This lockbox uses a pass card (available to Hawaii realtors). The system keeps track of the persons using the lockbox to enter a home and tells us when they visited. It's very useful to have a record of visitors and provides peace of mind to home owners!
Some agents are reluctant to try this technology. For those people, they can obtain a passcode that works for one day by contacting us. We record their information so later on we know when they visited the home.
What Makes iProperties Hawaii a better choice
We charge 5% with no add ons. Some other real estate companies tack on General Excise Tax, which brings the commission up to 6.3%.
To better prepare a property for sale, we will pay for or credit the seller back at closing for a preliminary home inspection and survey. Note: surveys are not needed for condos and townhomes. We'll also pay for a buyer's one year home warranty covering the main appliances, a $300 value.
Advertising that works! We'll have your property on multiple websites and we'll hold open houses to allow prospective buyers easy access on Sundays.
The Bottom Line for selling your Hawaii home
We're here to help you sell your property for the highest price in a reasonable time.
Mike is hands-on and will work with you personally, keeping in contact with you as we sell your home.
Tips for Hawaii home sellers
Price your home to sell. It's important to price a home according to current market conditions. Hawaii is now a buyers market and sellers that overprice end up holding onto their properties. A comparative market analysis (CMA) provides the background data upon which to base your list-price decision. Watch out for an agent whose opinion of value is considerably higher than what others have told you. Slightly underpricing is a good strategy to get buyers into your home and can speed up the sale process - possibly saving you thousands in mortgage and association fees.

The condition of your home is also important. Go through the house and repair any obvious cosmetic defects that could deter a buyer. Cleaning up the clutter makes a big difference too! Just take a look at the real estate listings and compare. A home with some furniture and decor looks a lot better than a home with newspapers, posters and personal items all over the place. Cluttered homes convey the message that there's not enough storage space.

Make sure that your home is getting the exposure it deserves through open houses, advertising, good signage and a listing on the local multiple listing service. Your real estate listing should have multiple photos for customers to view. Don't bother with an agent that doesn't include pictures of your home.

Does your real estate agent respond promptly to your phone calls and e-mail? What's going to happen when an someone contacts your agent to see the home? There are a few realtors out there that don't return calls and e-mails consistently, and their customers suffer because of it.