Sorry! No results were found for your search. Your search may be too restrictive - try loosening up your parameters (i.e., don't require items like Waterfront or View). Some property types do not contain all fields (i.e., multi-family homes do not list number of bedrooms).
Ocean Pointe is a high-quality choice for homes in Ewa Beach, Hawaii. Construction first started in 1999 and new homes are still being built today.
Homes at Ocean Pointe feature three to five bedrooms and interior area ranging from 1,275 to nearly 3,000 square feet. Most Ocean Pointe homes are two stories. All Ocean Pointe homes have 2-car garages and central air conditioning.
DIVISIONAL WINNER, SINGLE FAMILY, DIVISION IV, $399,001 - $499,000
Ocean Pointe, Residence 304
Ke Noho Kai Development, LLC/ HASEKO Homes, Inc.
Ewa Beach, Oahu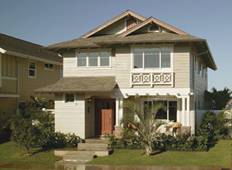 ADDRESS - 91-1050 Kaileolea Drive, Ewa Beach, Oâhu, Hawaii 96706
Located in the middle of Ocean Pointe's wide range of single-family homes, Residence 304 represents an ideal balance of family space, private luxury and overall value. From the dramatic, two-story entry to the open family living area to the covered lanai, this home accentuates the sheer volume of livable space. But it's also thoughtfully arranged space. Notice, for instance, the graceful archway separating the living from the dining room. The built-in media niche in the family room. And the kitchen with its big island, dual pantries and under-cabinet windows.
Four bedrooms make this home an excellent choice for growing families, and a versatile choice as well. The third bedroom can be transformed into a cozy loft (as modeled) or a home office with double doors. The master suite includes such masterful touches as a walk-in closet, dual lavs and a private water closet. And when the second bedroom is converted to a master retreat, the feeling of personal luxury is raised to an even higher level.
High-quality standard features such as central air conditioning, insulation, steel framing and double-paned vinyl windows are an Ocean Pointe trademark. As is street appeal. A beautifully landscaped front yard enhances the distinctive Coastal Craftsman architecture of this home which is free of the usual, intrusive, front-facing garage and driveway. The detached two-car garage is hidden away in back, on a quiet lane. So Residence 304 faces the street, not with a garage door but an inviting covered porch.
Ocean Pointe residence 305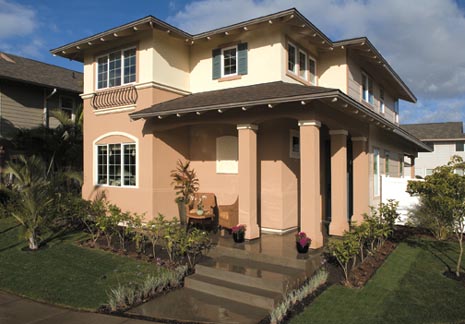 Generous. Gracious. Welcoming. These are some of the personality traits we had in mind as we created this all-new two-story home design.
Take the living and dining areas. They're really a single wide-open space, perfect for entertaining or just hanging with the family. The kitchen and oversized morning room follow suit, with a giant central island that pulls these spaces together and windows that fill this entire part of the home with natural light.
If you're looking for places to relax, you'll find plenty indoors and out. A large covered lanai. The sunny morning room, which can be an informal eating area at 9 a.m. and a dinner-party conversation area at 9 p.m. And then, of course, there's the wrap-around front porch.
Personal space? Let's begin upstairs with the master suite, where a vaulted ceiling, private bath, and walk-in closet create a sense of quiet luxury. Next, you find two liberally-sized secondary bedrooms. And just down the hall, a study area with two built-in desks flanked by windows (what a bright idea). Downstairs, a fourth bedroom and bath can provide secluded accommodations for guests or for a home office.
And don't forget Ocean Pointe's trademarks: steel framing, central air conditioning, insulation, and double-paned vinyl framed windows. Plus exceptional street appeal, thanks to detailed architecture, meticulous landscaping and a two-car garage hidden in back, so that the first impression is made by a generous, gracious, welcoming front porch.