Sorry! No results were found for your search. Your search may be too restrictive - try loosening up your parameters (i.e., don't require items like Waterfront or View). Some property types do not contain all fields (i.e., multi-family homes do not list number of bedrooms).
Nu'uanu is located in downtown Honolulu and works its way up to the Ko'olau mountain range. The Pali highway begins in Nu'uanu. The Pali Highway is one of the main transportation routes between Honolulu and the windward side of the Oahu.
Nu'uanu is close to downtown Honolulu, hospitals and shopping. There's a wide selection of single family homes and condos in the neighborhood.
Being an older neighborhood, most of Nu'uanu's houses were built many decades ago. The better looking homes are in the $1 million and higher price ranges.
Places of interest in Nu'uanu
The most popular landmark in this area is the Pali lookout. From this point, one can get a fantastic view of Kailua, Kaneohe and the Pacific Ocean. When it rains in Nu'uanu, watch countless waterfalls appear within a short time. And when the rain stops, so will most of the waterfalls.
Foster Botanical Garden - Located at the corner of Nu'uanu Avenue and Vineyard Street. People are surprised to find out that this green space in town is actually a garden, with an interesting variety of plants and trees.
Queen Emma's Summer Palace - This home was built in Boston in 1848 and shipped to Hawaii. It now serves as a museum. Queen Emma's Summer Palace is located at 2913 Pali Highway.
Nu'uanu area map and driving instructions
From the H-1 freeway (either eastbound or westbound) take the Pali Highway exit and proceed up the the Pali Highway (61). Nu'uanu Valley extends from the Pali Highway's beginning in town to the Pali lookout.
From Kailua, take the Pali Highway (61) south towards Honolulu. After passing through the tunnels you'll be in Nu'uanu.
Nu'uanu Neighborhood Information
Nu'uanu's zip code is 96817.

Population as of 2008: 52,000.

Median age of Nu'uanu residents: 45 years.

Average household size: 3 persons

Owner-occupancy rate: 39%.

Median year Nu'uanu homes were built: 1971
Public schools serving Nu'uanu include: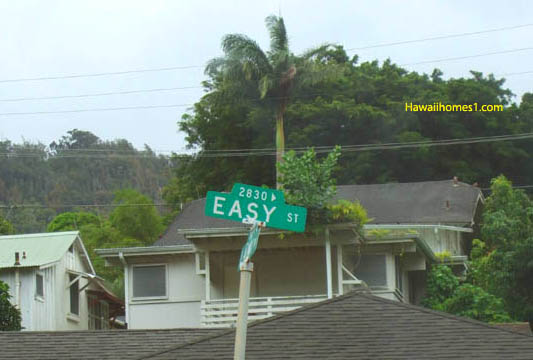 Easy Street is located in Nuuanu Valley.