Sorry! No results were found for your search. Your search may be too restrictive - try loosening up your parameters (i.e., don't require items like Waterfront or View). Some property types do not contain all fields (i.e., multi-family homes do not list number of bedrooms).
Located on a hill overlooking Ewa and Kapolei, this is a great neighborhood for those that appreciate being away from the city. With its altitude about 400 feet above sea level, temperatures are somewhat cooler too. In Hawaiian, Makakilo means "observing eyes," referring to the views from Makakilo's hillside.
The area's population was around 13,000 as of the 2000 census. With many new homes being built there, a lot of younger families are buying their first homes in the area.
Employment is available in Kapolei, the nearby military bases and downtown Honolulu. Shopping centers, movie theatres, banks and government offices are nearby.
Makakilo area map and driving directions
Westbound from Honolulu, take the H-1 freeway past Pearl City, Waikele and Ewa Beach. Take exit 2 (Kapolei, Makakilo, Kalaeloa) and bear right. At the intersection, turn right and proceed up Makakilo Drive.
Eastbound on H-1, take exit 1B onto Farrington Highway and proceed until reaching the Fort Barrette Road intersection. Turn left and along the bridge spanning H-1 freeway. On the other side of the freeway the road becomes Makakilo Drive.
New construction - Wai Kaloi at Makakilo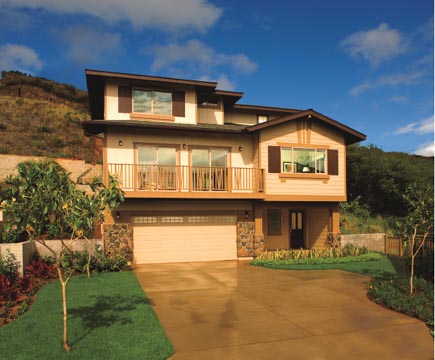 Nestled in the hills of beautiful Makakilo overlooking Kalaeloa, Wai Kalo'i at Makakilo is a picturesque community of single family homes. Named after an ancient spring that brought life to the mountain, Wai Kalo'i, "the abundant waters," pays tribute to the area's most honored natural resource.

'Ilima, Residence 5, offers three to five bedrooms, two-and-a-half to three baths and 1,855 to 2,229 generous square feet of living area. This spacious three-story home invites the active family to come together in its large family room with adjoining kitchen — a perfect place to share in conversation and camaraderie after a busy day. Just outside, the covered lânai is the ideal place to entertain family and friends.

The marvelous volume ceiling above the open living room entices dwellers to the spacious second floor. There, the master suite provides a walk-in closet and private master bath with cultured marble countertops and dual sink vanity. Two additional bedrooms and one additional bath provide ample living space for the entire family.

The beautifully-designed interior boasts traditional wood furnishings in medium tones of koa woods, enticing a rich cultured feel above the cool elevations of Makakilo with stunning views of the Pacific Ocean.

Built with the quality craftsmanship, Wai Kalo'i at Makakilo serves as the symbolic essence of our livelihood, a cherished gathering place where families can flourish.
Source: parade of homes hawaii