Hawaii Loa Ridge is located along Kalanianaole Highway, about halfway between Kahala and Hawaii Kai. Development began at Hawaii Loa Ridge in the mid-1980's and homes are still being built there today.
Hawaii Loa Ridge homes are all about luxury. Floorplans range from around 2,500 to 10,000 square feet. Lot sizes are about 8,000 to 30,000 square feet.
Attributes that draw people to Hawaii Loa Ridge are its majestic views from Diamond Head to Koko Head, the gated neighborhood and proximity to downtown Honolulu. Shopping and dining are a short drive away in Kahala, Aina Haina and Hawaii Kai.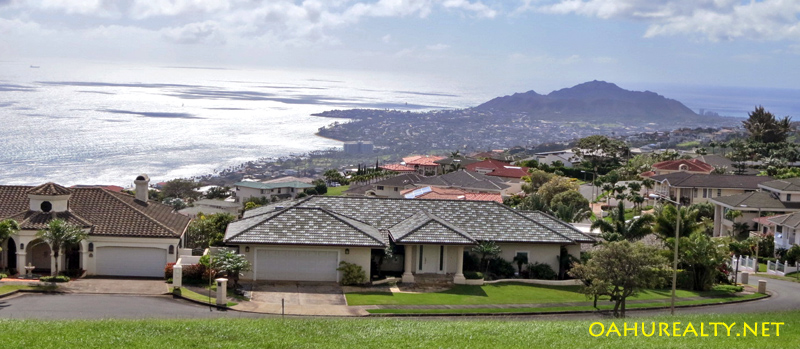 Hawaii Loa Ridge driving directions
From Honolulu, take the H-1 freeway east. The H-1 freeway terminates at Kahala and merges with Kalanianaole Highway. Continue eastbound and when you reach Kawaikui Park, take a right turn onto Pu'uikena Drive. The turnout is designed to direct cars up to Hawaii Loa Ridge.
Traveling westbound from Hawaii Kai, drive past Niu Valley and then make a right turn onto Pu'uikena Drive.
Please note: Hawaii Loa Ridge is a secured community and visitors must make arrangements in advance to enter the neighborhood.
Public schools serving Hawaii Loa Ridge include:
Hawaii Loa Ridge information
Development of this community began in the late 1980's. Developers and individuals purchased land here and built homes for personal use and for resale.
Hawaii Loa was a Polynesian chief who set sail from the Marquesas Islands and discovered Hawaii around 450 A.D. Many historians believe that the Hawaiian islands were named after Hawaii Loa.
Neighborhoods near Hawaii Loa Ridge: