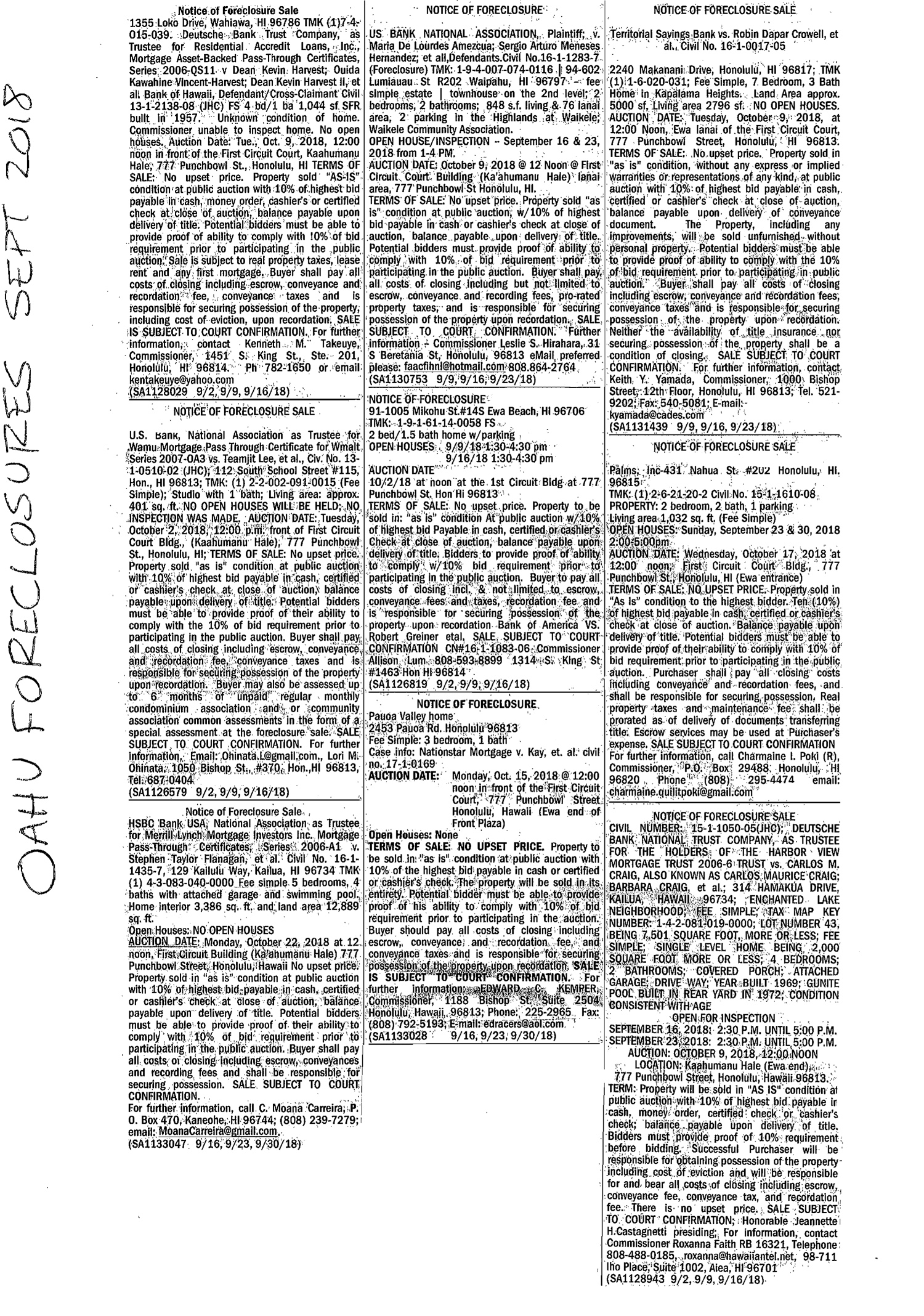 The lowdown on Hawaii foreclosures
Hawaii foreclosure listings have increased in recent years. Foreclosures listed on the MLS allow us to conduct a more standard transaction, generally allowing the buyer to inspect the home and obtain financing.
Hawaii Foreclosure Auctions
Foreclosures listed for auction in the newspaper (judicial and non-judicial) are usually the type where you show up at the courthouse with a cashier's check and bid.
Suppose you find an interesting foreclosure in the newspaper? A buyer usually needs to have at least 10% of the purchase price in the form of a cashiers check in order to bid. Example, you go to an auction for a home that has a potential market value of $400,000 and you're willing to bid $300,000. You need to have a cashier's check for $30,000 before you register to bid. The high bidder needs to secure financing for the balance of the loan (in this case, $270,000). Then, if the owner/tenant is still in the home, the new owner must evict them. If the owner/tenant refuses to leave, a sheriff can be hired (at the new owner's expense) to evict them. Foreclosures usually are fixer uppers, plan on spending money to get the home in good condition.
Okay, suppose you have the cash and financing and find a property you like AND win the auction with the highest bid. Buying real estate is complicated and you should have either an attorney or realtor handle your transaction. Non-MLS foreclosures generally don't pay commissions. To have a realtor handle your documents you'd need to make an agreement to pay your realtor a commission on top of the purchase price.
Foreclosures Listed with Realtors
These foreclosures show up in the MLS and pay commissions, making them easier to purchase. Your realtor can represent you free of charge (the seller pays the commission).
Outlook for 2018
In 2017 Hawaii's economy recovered nicely. Prices are gaining steadily. The real estate market has picked up and it's going strong. Foreclosures and short sales appear to be declining in number. The weakest markets are on the outskirts of Honolulu, in areas like Waianae, Kapolei, Makakilo and Ewa Beach.