Located right in downtown Honolulu, Executive Centre offers convenience to city dwellers who would rather not commute to work. The building is mixed use. Units can be residential, office or hotel.
Residential/hotel floorplans are primarily one bedrooms ranging from 477 to 1,217 square feet of interior area. There are some studios with about 370 square feet interior area. Some units are conveyed with parking spaces. Paid parking is available in the building and three municpal parking lots are within walking distance.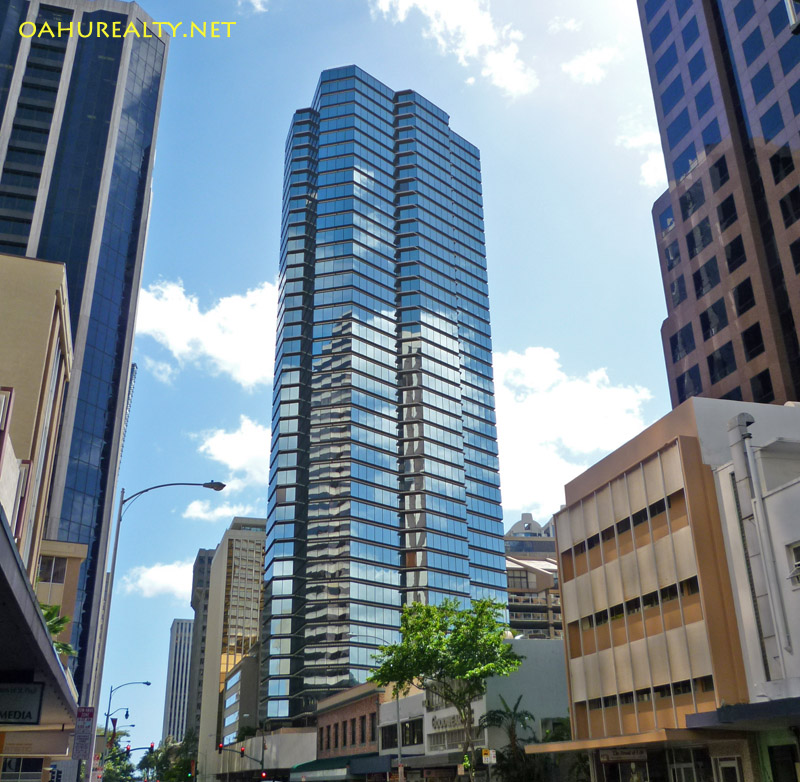 Executive Centre was originally sold as a leasehold building and the fee was offered starting in 2015. The lease expires on December 31, 2053. The lessor is Bishop Estate. If a buyer is purchasing a leasehold and not also purchasing the fee interest, financing is available in the form of portfolio loans through some local banks.
Listings are a mix of leasehold and fee simple, the leaseholds are less expensive. For each listing, look at the "essential information" and it states the land tenure as either leasehold or fee simple.
Hotel units are on the 20th floor and higher. Management of the hotel rental pool is handled by Aston Hotels & Resorts.
Staying at this property is a unique experience for visitors. Several miles from Waikiki and still close to interesting attractions such as Aloha Tower and Iolani Palace.
More information about Executive Centre
Executive Centre is 40 stories tall and has a total of 510 units (including commercial tenants). The building was constructed in 1984. Executive Centre's address is 1088 Bishop Street, at the corner of Bishop and South Hotel Streets in Honolulu.