Diamond Head was known as Leahi by ancient Hawaiians. Leahi means "brow of the tuna," referring to the profile of this crater. Diamond Head reaches 760 feet above sea level at its peak. It has a diameter of 3,520 feet and covers 350 acres.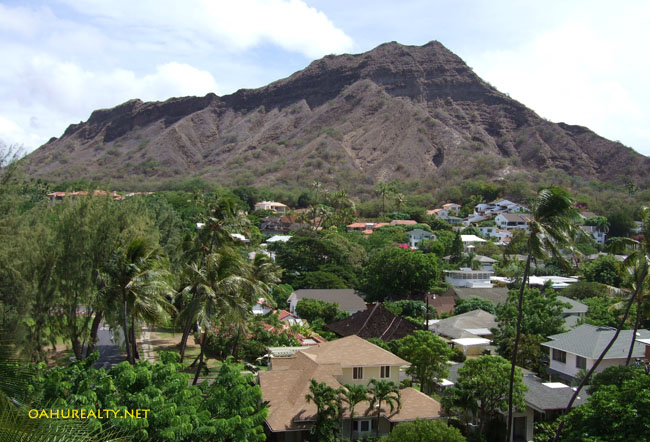 Diamond Head map and listings for sale
Diamond Head is surrounded by Waikiki, Kaimuki and Kahala. Diamond Head home prices start at approximately $1,500,000. Luxury home prices start around $2,500,000.
Diamond Head driving directions:
From Honolulu Airport, take the H-1 freeway eastbound. Take exit 25A onto King Street, past Market City Shopping Center, then turn right on Kapahulu Avenue. Drive to the end of Kapahulu where it intersects with Kalakaua Avenue. You are now at the edge of Waikiki. Turn left on Kalakaua Avenue and proceed to Diamond Head.
Public schools serving the Diamond Head area include:
Diamond Head history and information
In the 1800's, British sailors saw shiny calcite crystals shining on the crater and thought there were diamonds in Hawaii's soil. Hence the name "Diamond Head." The Hawaiian translation of the British name is Kaimanahila,meaning- "diamond hill". Near Fort Ruger Park (aka "Triangle Park") there's Kaimanahila street.
When the United States annexed Hawaii in 1898, Fort Ruger was established inside Diamond Head. Cannons were hidden in the sides of the crater and a deck was installed at the summit to watch for enemies.
In 1899 the Diamond Head Lighthouse was built at the front of the crater. The structure was demolished and a new lighthouse was built in 1917. That lighthouse is still in use today and can be viewed from the road. On rare occasions the Coast Guard gives guided tours of the historic site.
Walking to the top of Diamond Head is a pleasant 1 1/2 mile hike (roundtrip). Bring drinking water and a camera! On a clear day one can see Molokai, Lanai and the Waianae mountain range, all from the Diamond Head lookout.
Neighborhoods near Diamond Head: