Aiea is a city near Pearl Harbor and just east of Pearl City. Landmarks of Aiea are Pearlridge Shopping Center, Pearl Country Club, Pali Momi Medical Center and the watercress farm located along Kamehameha highway. Aloha Stadium separates Aiea from Moanalua.
A great place to go hiking is Aiea Loop Trail. Kamehameha Drive In Theatre is a reminder of days gone by. The theatre closed years ago but there's still a swap meet in the parking lot on the weekends. And there are many places to shop, including Jelly's Books and Records and the new Best Buy store.
Homes located in Aiea Heights benefit from the higher elevations and trade winds, resulting in cooler temperatures and panoramic views. Because Aiea is just outside of Honolulu, it is a central location convenient to downtown, Pearl City and Mililani.
From the Honolulu Airport westbound, take the H-1 freeway and exit at Aiea/Pearlridge.
From Honolulu on the Moanalua Freeway west-bound (78), take the Aiea/Pearlridge exit (see photo on the right).
Eastbound from Waikele and Ewa Beach on the H-1 freeway, take the Moanalua Freeway (78) offramp and then take the Aiea exit (13A).
Eastbound from Pearl City, drive along Kamehameha Highway (99) and you'll reach Aiea within a few miles.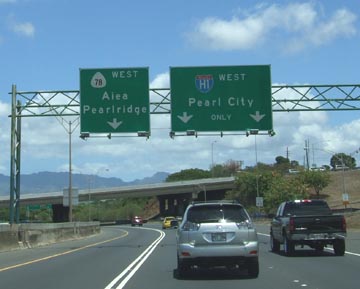 Aiea Neighborhood Information
Aiea's zip code is 96701
Population as of 2008: 42,000
Median household income: $68,000
Average household size: 3 persons
Homeowner percentage: 63%
Median year Aiea homes were built: 1974
Public schools serving Aiea include:
Some Aiea history
Honolulu Sugar Company built a sugar plantation in Ai'ea in the late 1800's. Then in the 1940's the company moved away from growing sugar and focused on refining it. The property changed hands several times and eventually went out of the sugar business in the 1996.
As sugar phased out over the years, land use was switched over to residential and commercial activities. Most of the homes for sale in Aiea were built between the 1950's and the 1990's.
Neighborhood nearby: